Author: David McNair Jan 26, 2017 The Daily Progress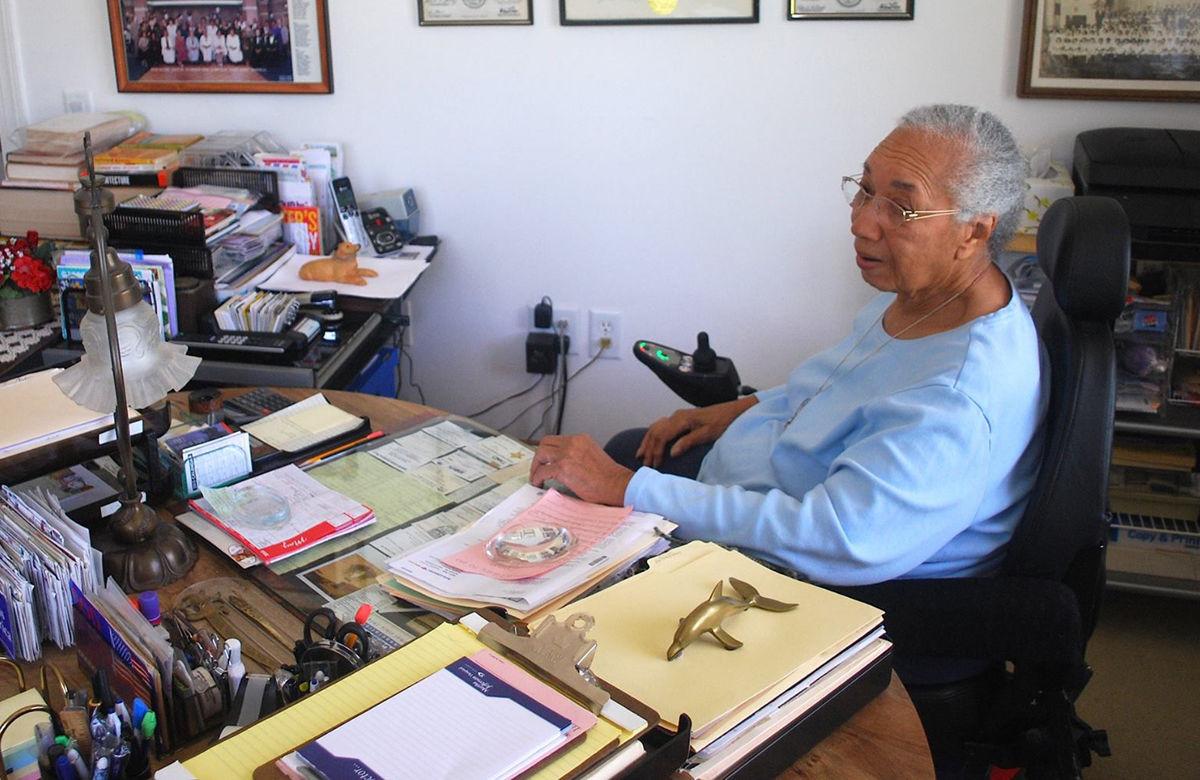 Evangeline "Van" Cleage made the most of universal design principles to build a house that remains comfortable and easy to manage now that she's using a wheelchair. Photo by David McNair.
Evangeline "Van" Cleage always has been a trailblazer. In 1956, Ebony Magazine noted that Cleage, who then was living in Los Angeles, was "the talk of fashion circles" for her progressive and innovative designs of casual clothing, and one of the very few African-American women in the business. She went on to shape the American fashion world in the Los Angeles and New York garment industries for more than 20 years.
Some might have called that a career. But the 89-year old Greene County resident, who grew up in Washington, D.C., and attended Howard University — where she discovered her interest in design — decided to get her master's as well.
"There wasn't a lot of job security in the garment industry," she said, "so I decided to get a master's degree in vocational education. I taught in the Los Angeles school system until I retired in 1994."
Greene County, where her maternal grandparents lived, always had been a summer destination when she was growing up in D.C., and eventually she and her sister inherited houses and land in the area. Now that she is disabled and mostly using a wheelchair, the house she inherited was not accessible enough, and living there was difficult. That's when Cleage began looking across the street at land that once had been her grandfather's cornfield, and designing in her a mind a house that could provide her with more independence.
Construction began in 2002, and she began to realize her design dream, laying the foundation for an unusually wide, one-level home.
"People thought I was building a wide, big house to be a big shot," she said, "… but I was just following the universal design principles."
Indeed, the house is a sprawling marvel of design efficiency and style.
Large banks of windows allow plenty of light, and wide hallways, doorways and open rooms allow her to scoot around easily in her motorized wheelchair. Electrical plugs are positioned high on the walls, with switches positioned lower. A dishwasher is ensconced in a raised cabinet — no bending down — wall phones are positioned near all the toilets, a bank of kitchen cabinetry runs low across a side wall and false fronts under the sinks allow her access to the plumbing fixtures. Tubs, toilets and showers all have grab bars. A whirlpool tub is installed low to the floor for easy access.
A door to the garage allows her access to a handicap-accessorized minivan with a wheelchair ramp. An electric stair-chair gets her downstairs to a basement "mother-in-law" suite, complete with another kitchen and bath, where another electric wheelchair awaits. Graded walkways around the house allow her outside access to porches and gardens.
And, quite simply, the open spaces in the house are comfortable and inviting.
"Many of the ideas in universal design are just that — universal — and of benefit to people of all ages," Cleage said.
Indeed, the features in the house would be a dream for a family with young kids, as well as for a family with grown kids and grandparents in the house. The cooks in the family would love that surfaces, cabinets and appliances are all at hand level. Little kids in toilet training and grandparents with walkers would have grab bars in the bathroom. Children could ride their bikes and Big Wheels on the access ramps around the house. Furniture can be moved easily from room to room as situations change. Teenagers can have their own space in the basement, as can their grandparents when the time comes.
Universal design, in fact, is present all around us — and something planners in our area have been working behind the scenes to encourage.
"Some features in the built environment originally intended to serve people with some kind of disability or limitation have made life easier for everyone," said Billie Campbell, executive director of the Thomas Jefferson Planning District Commission, who led the Livable for a Lifetime initiative (l4l.tjpdc.org), designed to promote universal design principles in our area. "Things like curb cuts, ramps, automatic doors … these help parents pushing strollers, travelers with luggage, shoppers with packages, as well as people who have difficulty opening doors or using stairs."
The L4L working group in the region has taken a hiatus, Campbell said, but she said materials are still posted on the website [l4l.tjpdc.org], including a section on home modification and informational white papers.
Meanwhile, Cleage's design masterpiece has allowed her to live independently despite her disability, and should serve as an example of what's possible when someone has a vision — and when form marries function.
David McNair handles publicity, marketing, media relations and social media efforts for the Jefferson Area Board for Aging.